Spätestens zum heutigen Launch des SNES Classic Minis dürfte jedem klar sein: Retro ist voll im Trend. Seit vielen Jahren gibt es immer mal wieder Versuche, die guten alten Plattformen mit neuen Gerätschaften wieder zum Leben zu erwecken – und mit TheC64 Mini gibt es nun nach dem "C64 DTV" mindestens schon den zweiten Anlauf, den Brotkasten als populärsten Heimcomputer der 80er noch einmal unter das Volk zu bringen.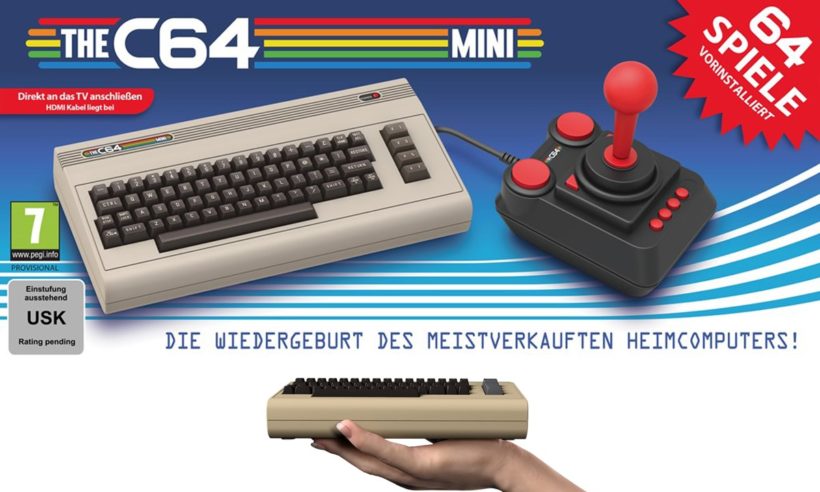 TheC64 Mini sollte ursprünglich ein "TheC64"-Handheld werden, das Crowdfunding erwies sich aber nicht als besonders erfolgreich. Durch die Kooperation mit Koch Media darf man sich aber sicher sein, dass der Mini auch tatsächlich in den Handel kommt.
Das Ganze basiert auf einer ARM-CPU, die Hardware wird also vollständig emuliert. Der TheC64 Mini verfügt über moderne Anschlussmöglichkeiten, etwa zwei USB-Ports und einen HDMI-Ausgang. Mit von der Partie sind außerdem 64 Spiele, von denen nicht wenige den Status "Klassiker" verdienen:
AlleyKat
Anarchy
Armalyte: Competition Edition
Avenger
Battle Valley
Bounder
California Games
Chip's Challenge
Confuzion
Cosmic Causeway: Trailblazer II
Creatures
Cyberdyne Warrior
Cybernoid II: The Revenge
Cybernoid: The Fighting Machine
Deflektor
Everyone's A Wally
Firelord
Gribbly's Day Out
Hawkeye
Heartland
Herobotix
Highway Encounter
Hunter's Moon
Hysteria
Impossible Mission
Impossible Mission II
Insects In Space
Mega-Apocalypse
Mission A.D
Monty Mole
Monty on the Run
Nebulus
Netherworld
Nobby the Aardvark
Nodes Of Yesod
Paradroid
Pitstop II
Rana Rama
Robin Of The Wood
Rubicon
Skate Crazy
Skool Daze
Slayer
Snare
Speedball
Speedball II: Brutal Deluxe
Spindizzy
Star Paws
Steel
Stormlord
Street Sports Baseball
Summer Games II
Super Cycle
Temple of Apshai Trilogy
The Arc Of Yesod
Thing Bounces Back
Thing on a Spring
Trailblazer
Uchi Mata
Uridium
Who Dares Wins II
Winter Games
World Games
Zynaps
Erscheinen soll das Gerät im Frühjahr 2018 zum Preis von 79,99 Euro. Mehr Infos hat die offizielle Webseite für Euch parat.
Preis:
EUR 249,00

(
2 Kundenrezensionen
)
1 neu von

EUR 249,00
0 gebraucht